Haa.. tak perasan langsung Zharif ada homework masa cuti sekolah. He has to write a diary/journal la konon, cite apa dia buat during school holiday tu... Prrgghhh.. bukak folder sebelum pi sekolah on Monday, 8th Jan tu... ehek... apa note ni??? Prrgghh.. mak nak cuti sakan, keje sekolah anak tak tengok pun. Luckly I managed to take few shots in Malaysia. Hubby was a bit mad then, too, because I keep forgetting to recharge the camera. Dapat la tampal sikit2 dalam journal Zharif tu. Here, I'd like to share some pics... what we did during the school break.. in Malaysia & Vietnam.. (sama la cerita dalam journal Zharif tu)..
*
Sementelaah tunggu daddy sampai dari Vietnam/KL petang nanti, makan2 & joli2 la kat Kuantan Megamall, naik menda ni.. Hah, dah banyak sangat kali naik, siap dapat free ride lagi.. rezeki depa tu. Mana taknya, tolong brader tu tarik menda tu bila budak lain habis main. Ha ha.. dapat part time job, dapat free ride tu..
*
Trying so hard to help daddy. Cuti kena potong, buat sendiri la beb.. no one's willing to fix the house within 7 days. But we did it!!! Tukar pintu & parquet, kena panggil expert la tu, 2 days je. Tebas rumput 5 kaki tu, gardener stadium (family fren) tolong. Painting the walls, plumbing, electrical fittings etc.. tu keje hubby!! Hobby dia. Paint the door/window grills, sental lantai & bathroom, keje Mulan. Uhuk.. uhuk.. but alhamdulillah. Paid off. My waist & arm jadik kecik maaaa.. Tak yah pi belly massage/aerobic untuk few months kot.
*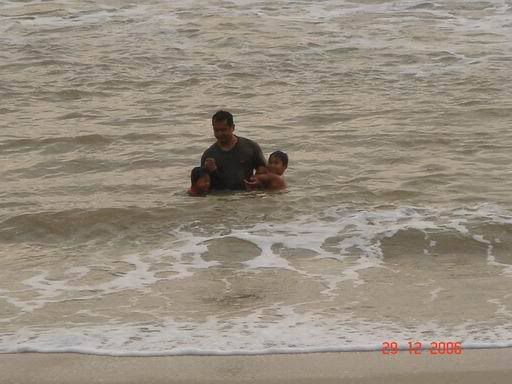 Sementelaah apppointment dengan taukeh parquet pukul 10 pagi nanti... he he.. bercanda dulu di Teluk Cempedak. Balik Kuantan tak complete la trip kalau tak pekena satu round kat TC ni. Though the weather was very2 gloomy, the kids had so much fun.. because they love water!!! Keluarga yang suka berendam, but mom not so lah. Habis kulit gue!! Habis kulit anak2 gue jadi color2!!! Huwaaaaa..
*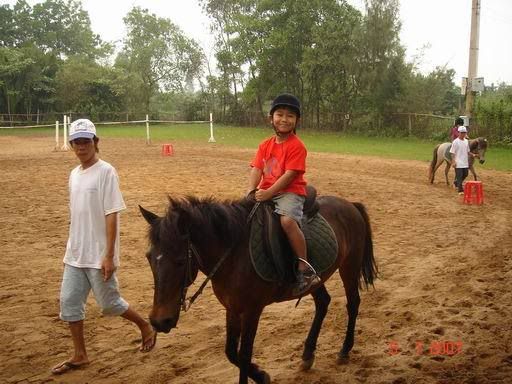 Heard from a friend about Saigon Pony Club. Dah tak tau apa lagi activity nak buat, we brought the kids here just to test the horseback ride. They enjoyed riding so much. Zharif has the criteria, to be a rider, kononnya. Instructor tu cakap la. Kot2 dia nak duit kot. Tapi they said posture penting untuk tunggang kuda2 ni. Zharif dari mula naik kekuda tu memang badan dia at the right position.. kononnya la. Tup tap tup tap, last Sunday hantar jugak la Zharif pi join the beginners session. He said he wanted to be a rider macam dalam cerita "Eragon". Tapi itu dragon rider !!! Tak pe la.. janji rider..
*
Ini amoi ever since she was 6 months old, dah kena campak dalam air. So, dia memang hantu air. Tak tau whether she can swim in the water without the swimming "float" suit tu. Takut eh nak cabut float dari suit tu. Nanti dia tak nak pakai lagi. Nak kena supervise all the time. Float dalam suit tu memang uncomfortable sikit. Heh.. takpe, janji dia timbul sepanjang masa. After came back from Malaysia, almost everyday lepak kat pool la depa. Terima kasih, saya duduk rumah saja. Penat sakan eh... ngecat, nyental, dot, dot, dot..